4.

Unidimensional numeric data and their empirical distribution#
The open-access textbook Minimalist Data Wrangling with Python by Marek Gagolewski is, and will remain, freely available for everyone's enjoyment (also in PDF; a printed version can be ordered from Amazon: AU CA DE ES FR IT JP NL PL SE UK US). It is a non-profit project. Although available online, it is a whole course, and should be read from the beginning to the end. Refer to the Preface for general introductory remarks. Any bug/typo reports/fixes are appreciated. Make sure to check out the author's other book, Deep R Programming [34].
Our data wrangling adventure starts the moment we get access to, or decide to collect, dozens of data points representing some measurements, such as sensor readings for some industrial processes, body measures for patients in a clinic, salaries of employees, sizes of cities, etc.
For instance, consider the heights of adult females (>= 18 years old, in cm) in the longitudinal study called National Health and Nutrition Examination Survey (NHANES) conducted by the US Centres for Disease Control and Prevention.
heights

 

=

 

np

.

genfromtxt

(

"https://raw.githubusercontent.com/gagolews/"

 

+


    

"teaching-data/master/marek/nhanes_adult_female_height_2020.txt"

)



Let us preview a few observations:
heights

[:

6

]

  

# first six




## array([160.2, 152.7, 161.2, 157.4, 154.6, 144.7])



This is an example of quantitative (numeric) data. They are in the form of a series of numbers. It makes sense to apply various mathematical operations on them, including subtraction, division, taking logarithms, comparing, and so forth.
Most importantly, here, all the observations are independent of each other. Each value represents a different person. Our data sample consists of 4 221 points on the real line (a bag of points whose actual ordering does not matter). In Figure 4.1, we see that merely looking at the numbers themselves tells us nothing. There are too many of them.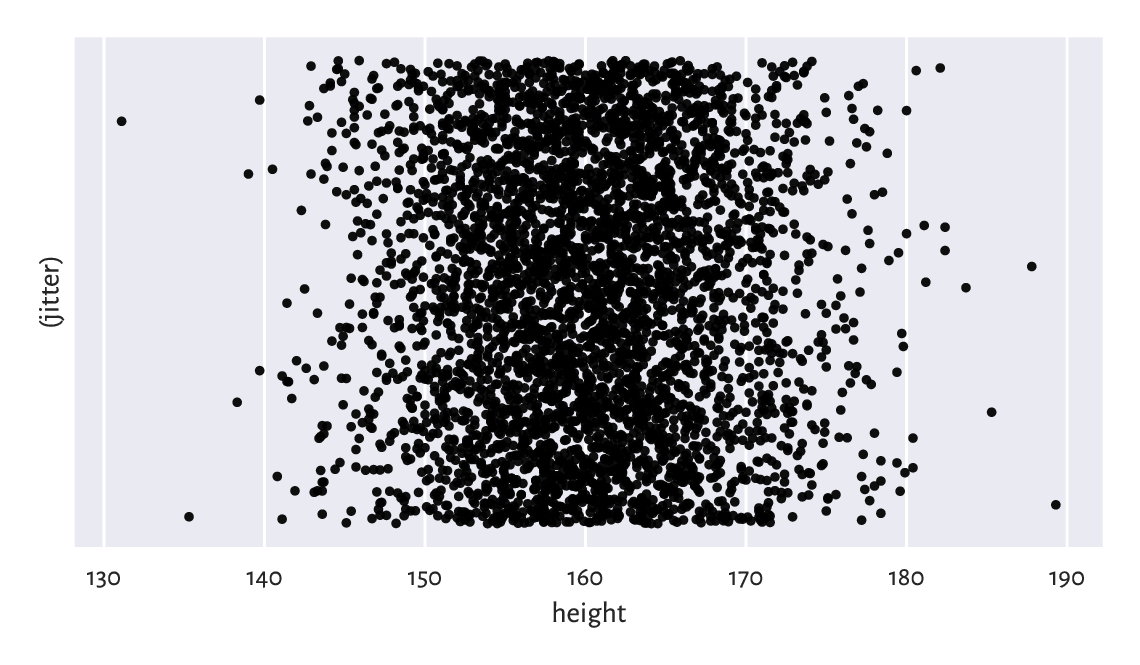 This is why we are interested in studying a multitude of methods that can bring some insight into the reality behind the numbers. For example, inspecting their distribution.